Does the large amount of snow sliding off of your metal roof cause problems? This is a common issue—we can help.
By decreasing the amount of snow that slides off each time, snow break can help with the following problems:
Damage to bushes, shrubs and landscaping
Permanent damage to gutter and fascia materials
Ice- and snow-packed decks and entryways
Personal safety when exiting and entering doorways
Foundation and concrete damage from ice and snow build up
We install snow break that is:
Made strong and extremely rigid with 24-gauge galvanized steel
Available in colors to match your roofing
Available in Cor-Ten and vintage rusted steel
Special ordered locally for your home
Installed in continuous rows, with overlapping seams, to insure durability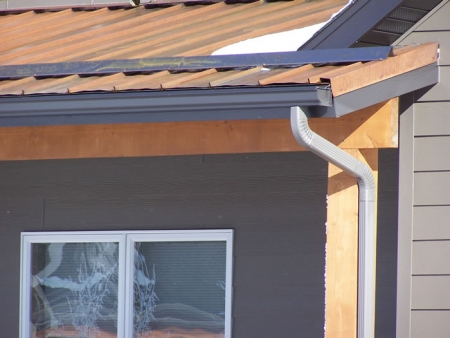 Not all snow break is created equal:
Ask before you buy. In order to save money, some installers may use left over material to fabricate your snow break in order to cut costs. Most material used for other parts of your home is too weak and many times is not an exact match to your roofing material. Also, many times the installer will add two rows to over compensate for the lack of strength of the material being used, causing a poor aesthetic for your roof.